How to get your

HubSpot Live Chat Tracking Code
What is HubSpot Live Chat?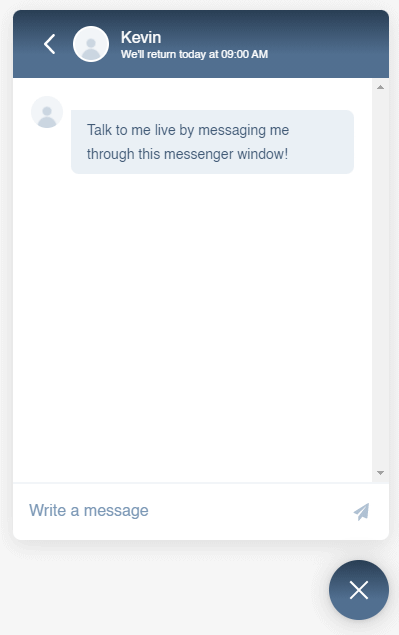 HubSpot's Live Chat is an optional chat window integration directly on your IDX website.

It allows visitors to your IDX website to directly message you in real time through your website. You will receive an instant notification via email of an incoming message and you can login to HubSpot Conversations to begin answering any questions visitors may have. It is fully connected to HubSpot CRM.

This HubSpot chat integration is a lead gen tool that may allow you to get closer to a prospective client.

If you have already launched your website and wish to add a HubSpot Live Chat to your site, please email [email protected] with your HubSpot Live Chat Tracking Code, full name and email so we can add it to your IDX website.

If you were directed here during the sign up process, you may follow these step-by-step instructions to generate a HubSpot Live Chat Tracking Code and paste it into your setup data before continuing your sign up process.
---
Step 1: Login https://app.hubspot.com/ to your HubSpot account
Step 2: After you login, in the top right hand corner of your HubSpot dashboard interface, click on the settings icon, circled in red.

Step 3: On the left hand Settings Panel, click on Tracking Code.
Please note: If you have analytics enabled, it will be displayed as Tracking & Analytics > Tracking Code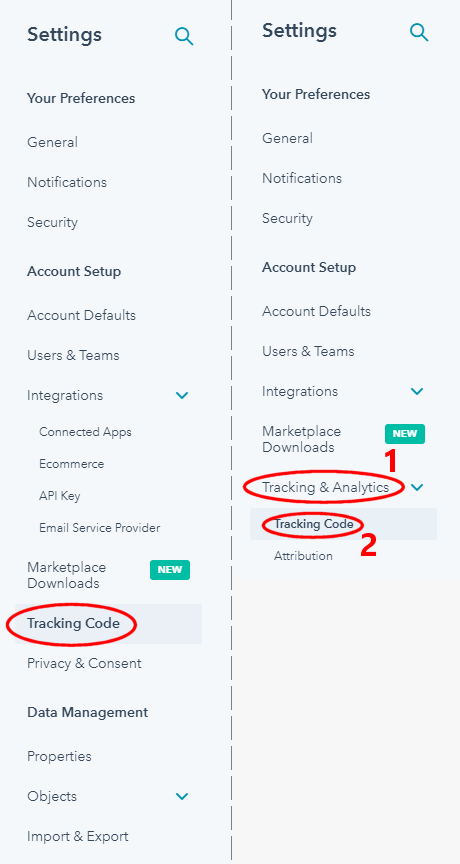 Step 4: Copy the entire embed code and paste it to where it needs to go.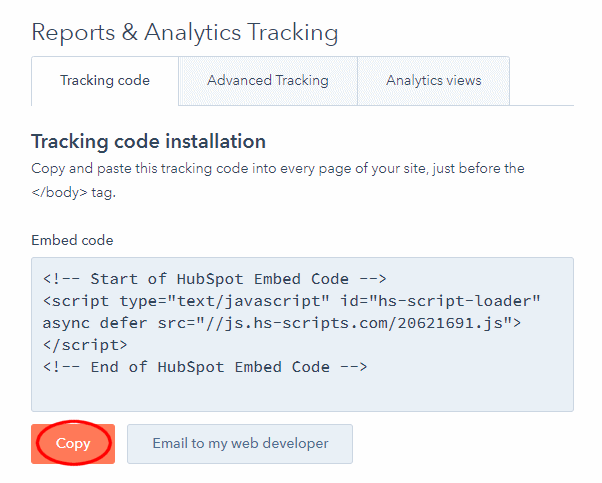 Note: The next 5 steps MUST BE COMPLETED to activate the 2 way Live Chat or nothing will show up.
Do not stop now just because you have generated the code and do not feel like customizing the chat messenger.

Step 5: Click on Conversations > Chatflows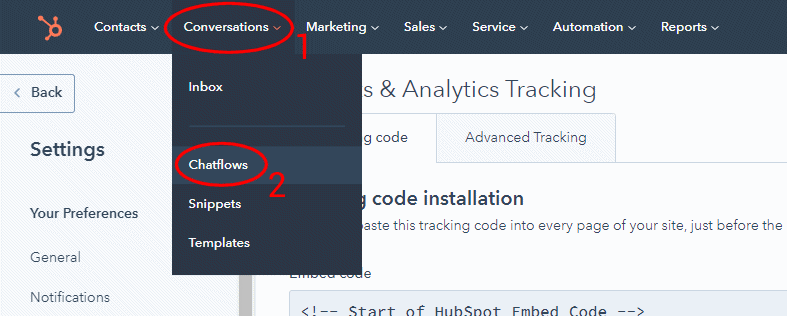 Step 6: Click on Create chatflow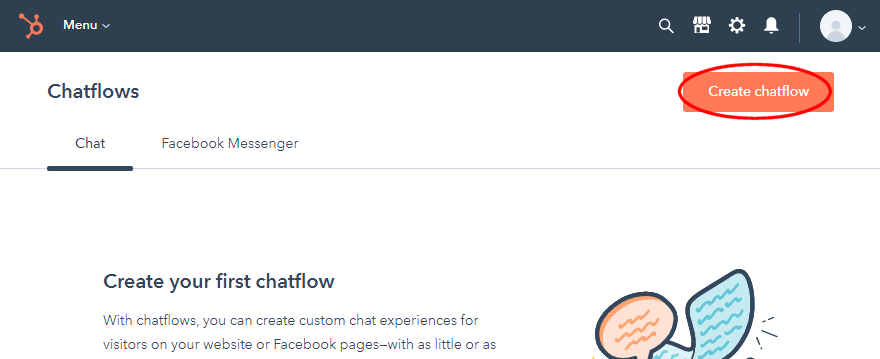 Step 7: Click on Website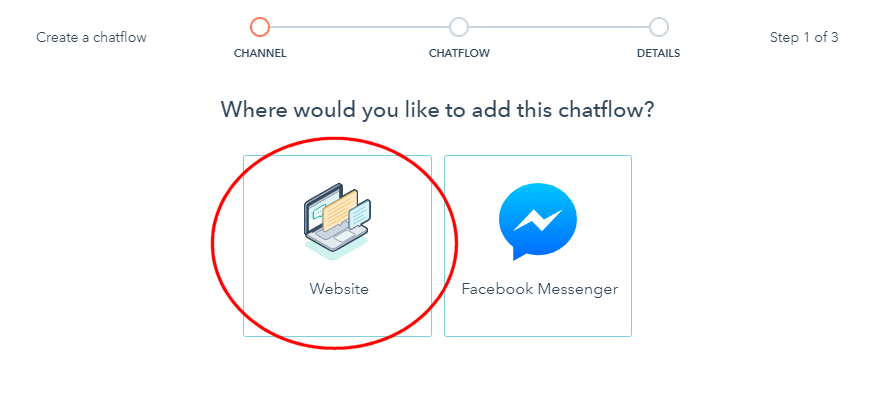 Step 8: Click on Set up chat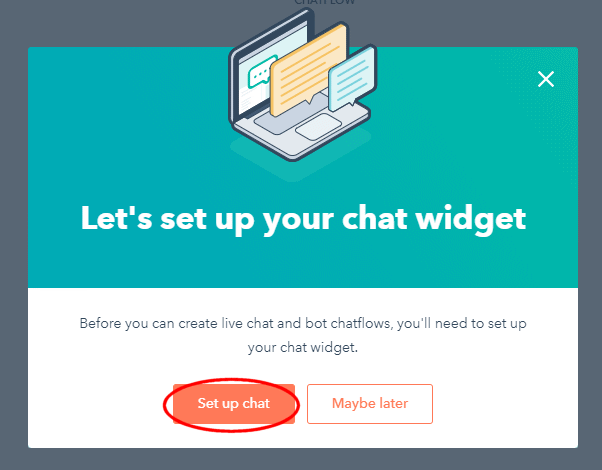 Step 9: Go through the next few screens to choose your chat window's look and feel and then click Next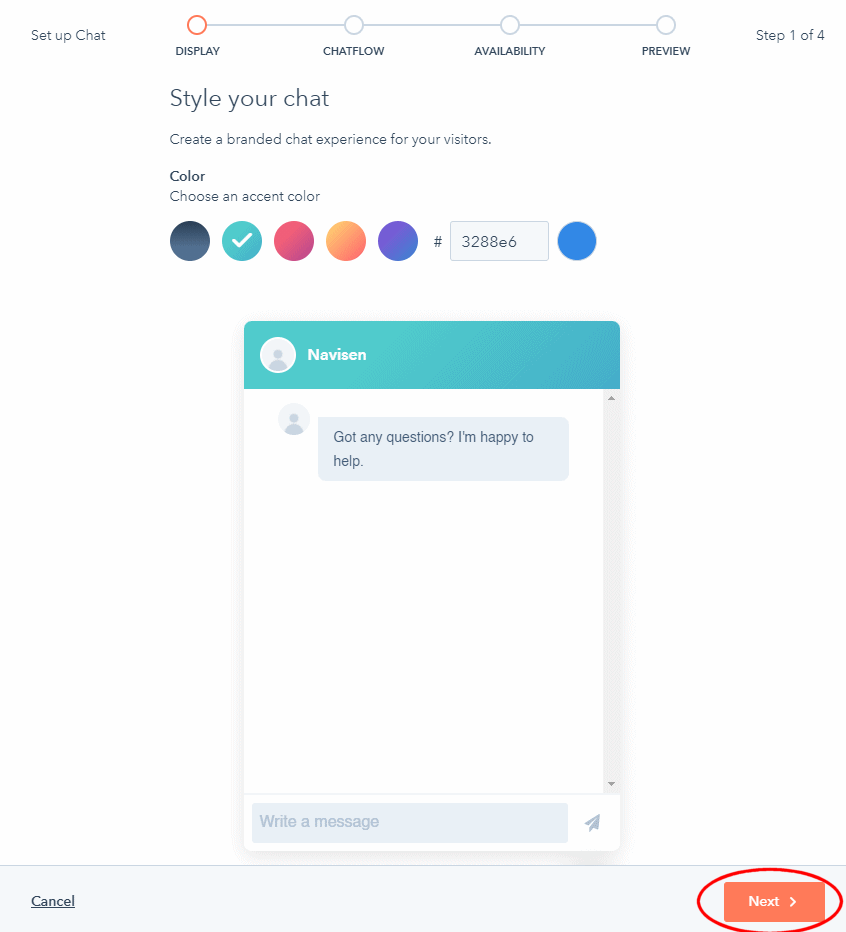 Step 10: Publish your chat setup and you should see this screen pop up. Congratulations! You have setup your HubSpot live chat.